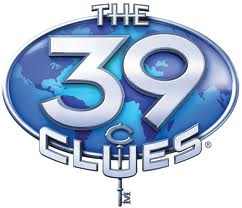 Looking for a new series of books? I know the perfect series! It's called The 39 Clues and it had me captivated from minute one. The series features an amazing adventure-mystery plot with an interesting twist… each book is written by a different author! It's really fun to identify the different writing styles, and how it all comes together into a single series. Get ready to hear all about these amazing books!
The plot revolves around Amy and her little brother Dan. They live with their cruel Aunt Beatrice, since there parents died in a fire several years ago. They used to often visit their extremely kind grandmother, Grace, on the weekends. But in the first book, The Maze of Bones, Grace dies as well, and they must go to her funeral. They and several other family members are taken inside her old mansion, and are informed that they are members of the most powerful family in the world, the Cahills. However, the family's power has been scattered in the form of 39 clues, and whoever gathers these clues gain ultimate power. They have a choice – a million dollars, or the first clue. Going against Aunt Beatrice, they take the clue. They must now go around the world in search of the clues with their au pair, Nellie. The adventure begins!
At first, I was against the idea of getting the first book, The Maze of Bones, because the title made is sound like a horror book, a genre I'm against. Then I learned it was written by my favorite author, Rick Riordan. I decided to give it a try, and found that I loved it a lot. I am currently into book seven, and my favorite is book six. There are twelve total books, by the way – and the series is still in production. That's enough to keep you busy for a while, huh?
I hope you consider trying these books. Don't forget, the first book's name is The Maze of Bones! It's really cool and really interesting. Of course, don't take my word for it. If you get the book, tell me about it in the comments. I love to hear from you!